I took a huge leap here and The Girl and I made her Easter Dress this year. I can promise you that by Wednesday of that week I was in "WHAT WAS I THINKING!!!" mode, and every time I sighed The Girl offered me the seam ripper... but I think in the end it did not turn out that badly, and she loves it so we are sharing.
Materials:
an old men's shirt (I believe this one was my father's)
thread
embroidery floss
an old bed sheet
I started with this basic tutorial for making a dress out of a men's shirt.
The Shirt Dress tutorial
I loved the sleeves on this little shirt and did my best to replicate them I am not sure I got it quite right but the the sleeves are pretty cute none the less.
Spring Amelia Top
But I wanted it to have a fuller skirt so rather than cutting down the sided of the shirt we left them and used this smocking tutorial to make a honey comb smocking on the sides of dress to gather it in while still keeping some volume to the skirt.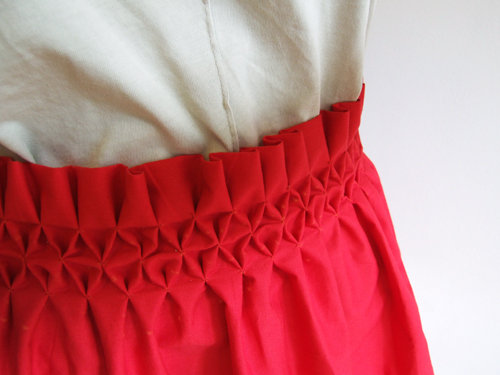 Smocking Tutorial
We wanted a good poof to the skirt the best way to achieve that is with a petticoat so we used an old bed sheet we had around that was given to us years ago and just happened to match to make a cheater petticoat. We started with a circle skirt like this tutorial.
Circle Skirt Tutorial
Then around the hem we added a ruffle that was inspired by these adorable little Easter dresses. The Ruffle gave the skirt the petticoat look while the actual volume came from the fact that the circle skirt had more fabric than the shirt dress. So not a true petticoat but it did the job.
Easter dresses by Katie Did
Then to "Easter" it up a bit we embroidered the a bunny near the front left hem line. I used this pattern as my inspiration for it.
Bad Bird's Embroidery Pattern for March
And finished it off with a
chevron blanket stitch around the collar. It was not very neat but it did add just to pop of color it seemed to need.
The Purl Bee embroidered scarf tutorial
What do you think?